Upcycled Plastic Bottle Display Cloche
The children only went back to school last week, but my thoughts have already been turning to Halloween. We're holding George's Birthday Party on 31 October and the theme is 'Victorian Gothic'. I have been busy crafting all manner of props including apothecary bottles, museum-style specimen jars and these 'Gothic Bell Jars'.
They came about as a result of
this
apple gift box, which I crafted from two upcycled plastic pop bottles.
I made quite a few and had the top bottle halves going spare, luckily a friend asked if she could have them to use as cloches on her allotment. I handed them over and she reported back that they were perfect for preventing pesky little bugs from devouring her crops! This got me wondering if they would also make suitable display cloches. So I went down to my local food store, armed with my half bottle, in search of something to use as a cheap base. I trawled through the aisles trying
every
possible jar lid until I found the perfect fit. I then needed a cloche handle, I bought some wooden cabinet handles from the local car boot sale and sprayed them black, but I wasn't really happy with the result. Mr Larkin then reminded me about
these
cloches which he and the children kindly gave me for Mothering Sunday;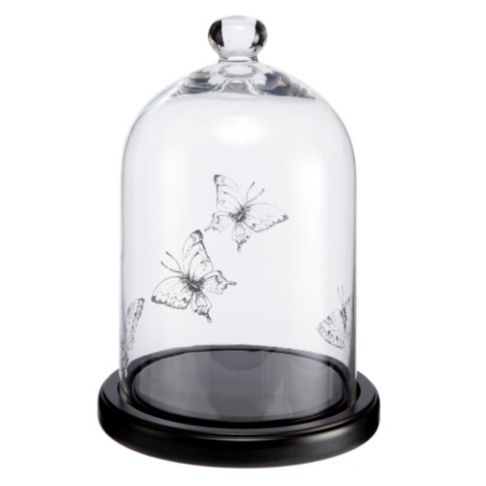 He pointed that they had clear glass handles and suggested that I use a large clear marble - Genius! (He also noted that they cost £12 each and I was now making 'free' ones....)
I was delighted with the finished item so thought I should write a tutorial, as who wouldn't love to make their own gorgeous display cloche!
Gothic Bell Jar Tutorial
Materials
Empty two litre plastic soda pop bottle
Lid from 'Hunger Breaks ~ Hot Pots' microwave meal
Black card
Large clear marble
Equipment
Dremel tool or hacksaw
Strong multipurpose glue
WD40
Scissors or craft knife
Step One
Carefully remove the thread from empty plastic bottle, as in the picture below, using your Dremel or hacksaw.
Step Two
Using strong multipurpose glue, such as 'E600', stick the clear marble into the exposed bottle neck.
Step Three
Wipe off the expiry date on the bottle using nail polish remover or acetone. Then remove the label, should any glue remain on the bottle simply rub with WD40.
Step Four
Carefully cut the bottle in half, using scissors or a craft knife, and discard the bottom piece (or make an apple gift box!).
Step Five
Cut a circle of black card to cover steam holes in the Hot Pot lid and stick into place.
Step Six
Now place your cloche cover on the black base, a two litre bottle fits the raised lip of the Hot Pot lid perfectly. However, if you can't find a 'Hot Pot' lid simply experiment with upturned saucers, dishes or other suitable items. They even look fantastic just placed directly over your treasures!
I filled mine with various car boot and thrift shop finds - A quick spray of black and silver paint makes naff ornaments and cheap plastic animals look most gruesomely gothic!
Happy Halloween!